Meet the Powerful, Intuitive Shipping Solution for Shopify Plus
Turn shipping into an experience you and your customers will love. Using our advanced shipping logic, you can create rules that turn shipping into a smart, scalable revenue stream that drives conversions.
Request a Demo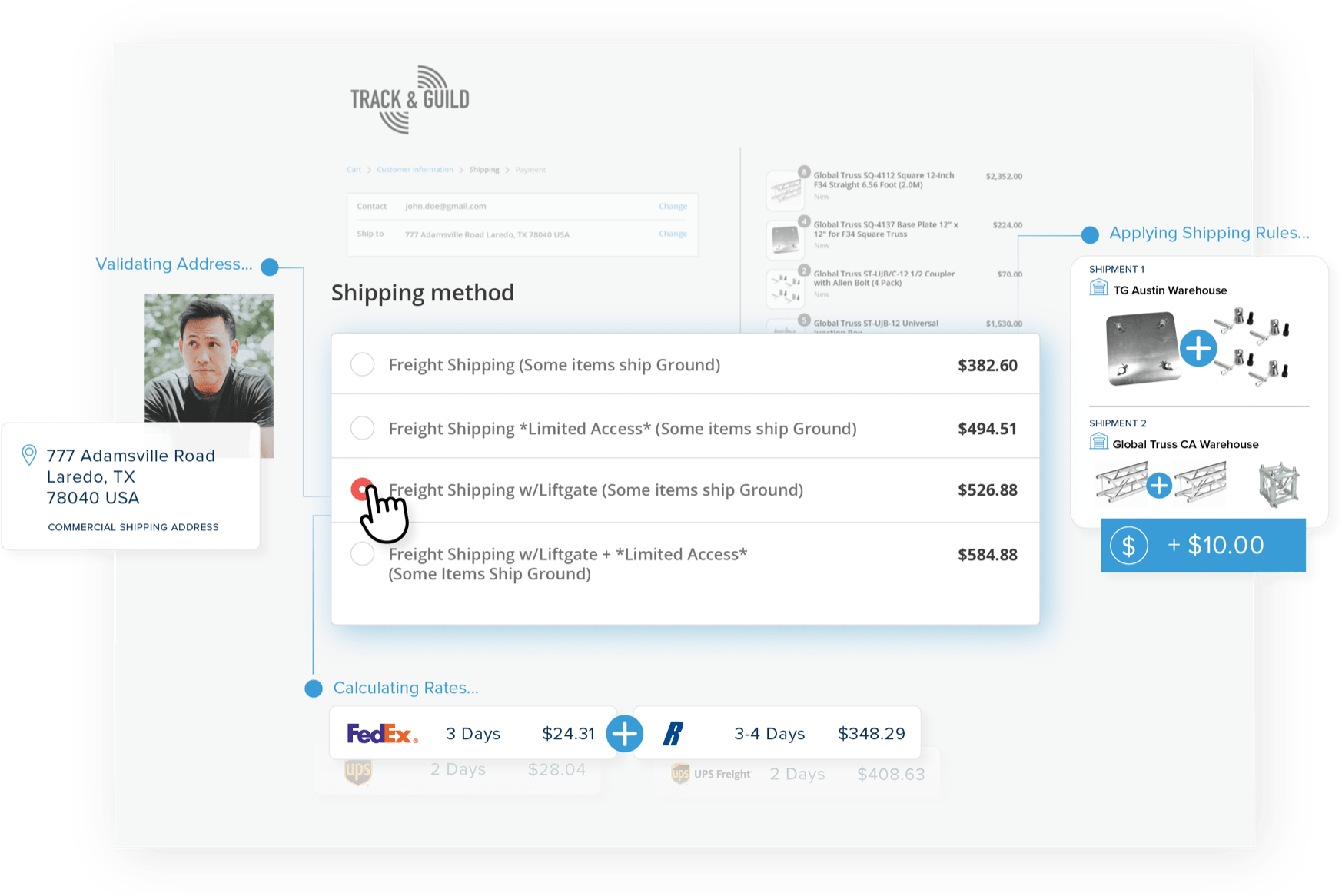 Live Rates & Support for 50+ Carriers
AAA Cooper Freight ABF™ Ascent Global Logistics Australia Post Australia Post eParcel Averitt Freight Canada Post Cerasis™ CustomCo Freight Dayton Freight DHL DSV Freight Echo® Global Logistics Estes® Experian fastway FedEx® FedEx Freight® FedEx Ground Economy GSO Holland Freight Kuehne+Nagel LTL eCommerce KDL Loqate NEMF Old Dominion® Pitt Ohio Primus R&L® Startrack Sendle TST Overland UPS® UPS® Ground with Freight Pricing UPS Access Point® UPS Freight® UPS SurePost® uShip USPS® Vitran Express (Canada) XPOLogistics® YRC® Freight Zenda, powered by British Airways
Combine Advanced Features to Build a Shipping Strategy that Does the Work for You
Trusted By Thousands of Innovative Brands
---
A Reliable Partner for Your eCommerce Shipping Strategy
A Game Changer in the World of eCommerce Shipping. ShipperHQ's development team defines the standard for how to provide an amazing level of support. When it comes to any custom shipping requirements - they are the go-to solution for anything shipping related.
Priority Support
Shopify Plus customers using ShipperHQ experience award winning support, with a same day response time
Simple Installation
Easily install, test and use ShipperHQ's app for Shopify Plus
Future-Proof
Stop wasting time and money on brittle custom solutions. ShipperHQ helps you stay up to date with the latest carrier APIs and technical requirements to keep your operation running smoothly
Get Results Fast
Need a consultation or training on ShipperHQ? Our team of eCommerce shipping experts are here to guide you to the right shipping experience for your business
About ShipperHQ
With over a decade of experience serving tens of thousands of retailers worldwide, ShipperHQ gives you the tools to craft a shipping strategy that's profitable, drives eCommerce growth and is more optimized for conversions than your competitors
Get in Touch with our Shipping Experts