Sell More Furniture Online with Real-Time Shipping Rates
Instantly receive shipping rates at checkout for all your furniture orders. Through uShip's integration with ShipperHQ, online furniture retailers, new and existing, can provide their customers with straightforward delivery options and competitive rates for in-home furniture delivery services.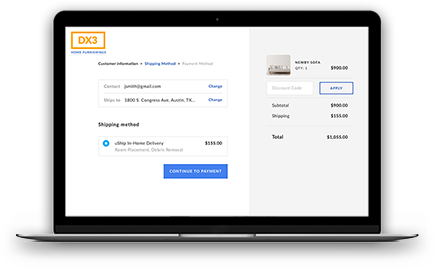 Take Full Control of Your Furniture Shipping with ShipperHQ and uShip
Real-time Rates
Entice customers with competitive, real-time shipping rates
Offer More Choices
Offer convenient furniture delivery choices buyers expect at checkout
Be Competitive
Execute your shipping strategy and promotions all in one place
Increase Conversions
Reduce cart abandonment rates with optimized delivery options
Trusted by thousands of innovative brands
Growing or starting an online furniture business? Try ShipperHQ Free!
uShip and ShipperHQ are here to help you enter the eCommerce space successfully. Gain a competitive edge online by offering your customers real-time shipping rates and convenient delivery options at checkout for all furniture orders.
Ready to Get Started?