Offer a Top-Tier, Personalized Checkout With The Largest Courier Network
Instantly access discounted shipping rates from couriers around the world from just one account. With ShipperHQ's integration with Easyship, you can further enhance your checkout experience with accurate delivery information, fully landed costs (inclusive of taxes, duties and courier fees) and show the most relevant shipping options. Plus, streamline your post-purchase process by generating labels and providing global tracking automatically.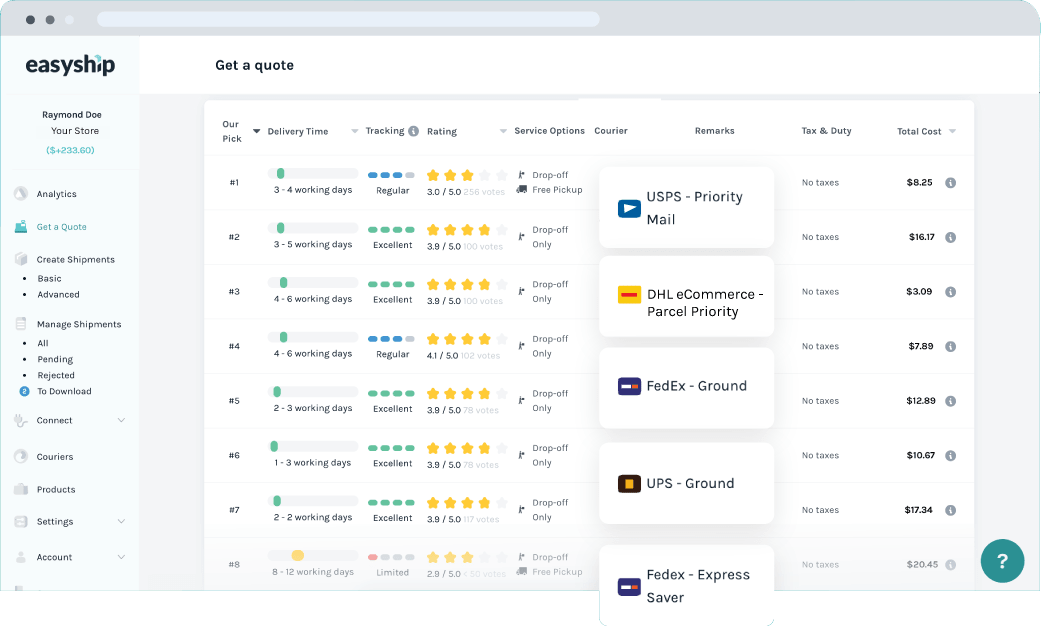 SPECIAL OFFER
ShipperHQ merchants get $50 in shipping credit when you sign up for a free Easyship account!
Sign Up Now

Manage Your Shipping With One Account
Largest Courier & Fulfillment Network
Access pre-negotiated shipping rates from couriers around the world with just one account, or link your own courier accounts (including Fedex, UPS, DHL and more) to use your own rates. In addition, for growing merchants, leverage Easyship's global fulfillment network to ensure affordable rates to offer fast, innovative shipping options customers expect today such as same-day delivery, alternate pickup and regional solutions.
Dynamic Rates at Checkout
Easyship's dynamic rates are based on actual items in your customers' carts, so your quotes are always accurate. Customers can choose between the fastest, cheapest, and best value courier services at checkout, with fully landed costs, to increase conversion. In addition, you can set up shipping rules and promotions completely customized to your business requirements.
Manage All Your Shipments From One Dashboard
Compare courier rates, generate labels and pre-filled international paperwork, automate returns, create shipping rules, and manage account finances seamlessly in one place. Create shipments without manual data entry, monitor tracking statuses, and analyze your sales performance - all within our intuitive dashboard.
Offer Tracking and Automated Returns
Offer global tracking, share branded landing pages and automate notifications to deliver an enhanced post-purchase experience from checkout to delivery. From accurate delivery lead times at checkout, to buyer notifications and messaging, Easyship has you covered.
Trusted by thousands of innovative brands
SPECIAL OFFER
ShipperHQ merchants get $50 in shipping credit when you sign up for a free Easyship account!
Sign Up Now

Ready to Get Started?
Simplify all your shipping processes for global buyers, from your in-cart and checkout experiences through fulfillment, label printing, order tracking and more.